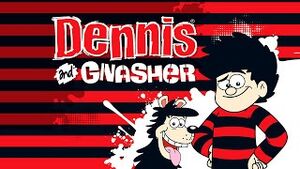 Dennis and Gnasher is a British/Australian animated television series currently being aired by the BBC. Based on the original comic strips, it features the adventures of the rebellious schoolboy Dennis the Menace and his dog Gnasher. The programme is aimed for 5 to 10 year olds and commenced on September 7, 2009 and airs everyday at 15:45.
Production
Edit
The new series features the return of Dennis, Gnasher, Mum, Dad, Curly and Pie-Face and also features the introduction of Dennis' little sister Bea, as well as several original characters like Athena. The production shots also showed Dennis' treehouse with a more menacing design. Screenshots and an episode can be found at the production company Red Kite Animation's website. Images of the characters and production were featured in The Beano's 70 year anniversary.
The show was created at Red Kite's Scottish animation studios as well as Sticky Pictures in Australia. Consisting of 52 11-minute segments, the animation is directed by Glenn Kirkpatrick with Donna Andrews as producer (Sticky Pictures) alongside Jane Schneider and Sue Smith (Red Kite). Jane O'Brien, Sarah Aubrey and Keith Scott are confirmed to be voice actors for the series.
A number of changes have been made to the original format compared to the comics and previous television series. As well as being updated and modernised, Dennis will lose his catapult and peashooter and will no longer deliberately cause trouble, In addition Walter, Dennis main rival, was made more masculine, removing elements like his pink pyjamas, a small poodle, effeminate voice and his friends being mainly girls. There were fears that Dennis was could be seen as homophobic or at the least bullying Walter about his effeminacy, sparking fears and criticism that the show has been toned down for reasons of political correctness. However the producers have stated that "Dennis will not lose his sense of fun." Cartoonist Lew Stringer has refuted on his blog the political correctness claims made by some areas of the media, especially the reports that Dennis will no longer use catapults and Gnasher will no longer bite people. Describing these claims as "another 'political correctness gone mad' myth embellished by the media", he has posted videos showing that the show has not been softened up to the extent that the media has reported.